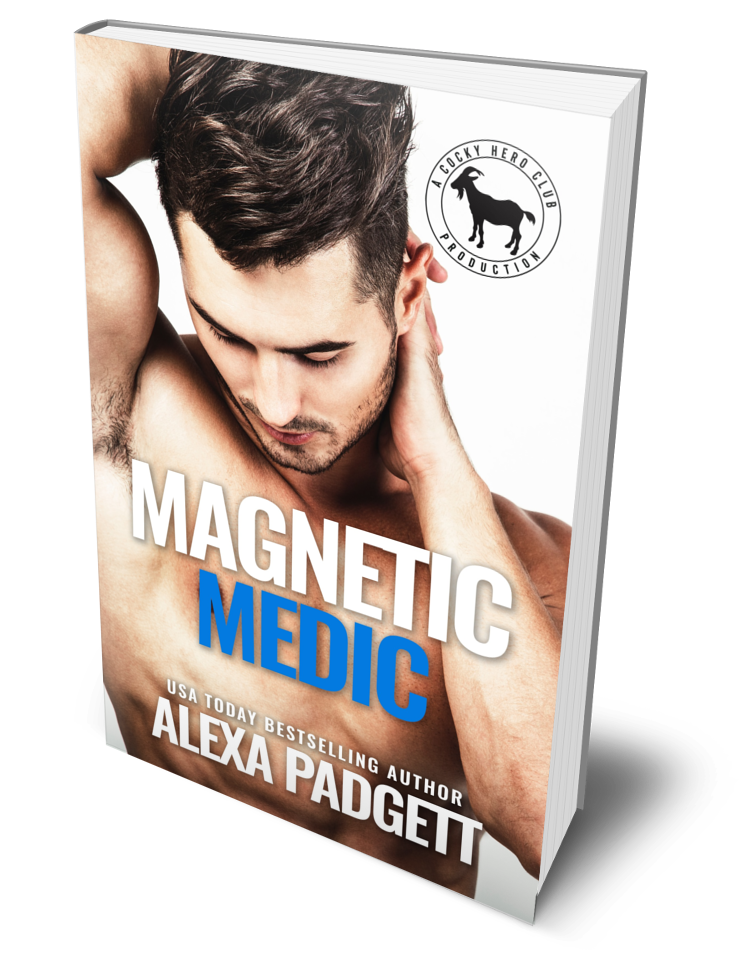 Magnetic Medic
---
A Cocky Hero Club Novel
Magnetic Medic is Book 1 in a series inspired by Vi Keeland and Penelope Ward's British Bedmate. It is published as part of the Cocky Hero Club world, a series of original works, written by various authors, and inspired by Keeland and Ward's New York Times bestselling series.
To find out more about all the Cocky Hero Club World books and authors, visit: www.cockyheroclub.com.
---
A sexy, new brother's best friend romance from USA Today bestselling author Alexa Padgett.
He's my brother's childhood friend. I'm pregnant with another man's baby. What a time to fall in love…
Coming home seemed like a good idea at the time. My ex-fiancé split, I was almost done with my master's degree, and I was already working at the family architecture firm. When I move in next door to pediatrician Ryder Mackay, I'm not expecting the connection—or the passion in his eyes that I feel deep in my soul. He's the best doctor for my baby, but he's not the guy I need.
Still, the way Ryder looks snuggling my puppy—and my infant daughter—to his rock-hard chest makes me wish this sexy, smart, compassionate man was mine.
Maybe, it's pregnancy hormones. Or…maybe this magnetic pull is forever.
---
Chapter 4
Aidy
I woke with a smile on my face for the first time in…I couldn't remember when I'd last awakened happy. Sure, it was still dark outside, and I had leg cramps, but none of that dampened my good mood—a first for me after months of consistent despondency.
Dinner last night with Ryder proved a revelation. He listened, considered what I said, and engaged me in a discussion about my green building passion. He'd showed me what I should be looking for in the people I wanted as friends. Sure, I had work colleagues, but, in those first weeks after my move, I'd needed to lick my wounds—and I'd been sure Jeff would call, begging my forgiveness. Making new connections, building relationships seemed pointless.
But now, I'd committed to building a life in Providence. That intimated a need for companionship, and Ryder was a great first candidate. When I'd started to clear the plates, he'd told me to sit and relax, and he cleaned the entire kitchen, which was a true and beautiful luxury. I was a messy cook, which I minded more now that I was also the kitchen cleaner.
While Ryder scrubbed, I ogled his forearms. Each time he flipped a dish to rinse, the muscles bunched and shifted. He was effortlessly sexy, and I appreciated his beauty.
That's what I planned to keep telling myself anyway, because I couldn't actually let my mind go there—where it wanted. He led the candidates as my daughter's pediatrician because I knew he would give my baby the best care possible, which made me calmer about the whole having-a-kid thing. Maybe, in time, Ryder would be a friend, but no way we'd be more than that.
Even if I were interested in dating, and even if I trusted myself to find the right guy this go-round, jumping into a relationship now wouldn't be smart.
Still, not thinking of him as a potential lover would be easy if he weren't so damned hot. And nice. And if his eyes stopped lingering on me like they could see every mussed and frazzled part of me and approved anyway.
When he left, my place expanded, leaving me adrift, so I'd brought my laptop to my bedroom. Settling back against the pillows, I shoved another under my computer and managed to complete an entire chapter of my thesis—the best one I'd written. I even outlined the next three thereafter, using my exuberance from the conversation with Ryder about interior space and its need to reflect a person's taste as well as the exterior environment to dictate my fingers. Drilling into my area of interest made this paper easier to write.
If I stuck to a strict schedule, I might manage to complete the first draft by the beginning of February. While it sucked that I had to pay for another semester of tuition, an early February turn-around would give my advisor time to read and make further suggestions prior to the end of the semester. The idea of actually completing my degree made my face split into a smile, which widened further when I found the sticky note on my door the next morning.
Thanks for dinner! It was so good I didn't mind cleaning your mess.
Ryder
*
I went back into my place and scribbled a reply.
You're welcome. And here I was hoping for another of your corny pickup lines…
Don't be a stranger.
Aidy.
I stuck my note to his door and headed into the office. Nico popped his head in, eyes wide when he found me standing at my drafting table.
"You're here early."
"Baby wasn't interested in sleeping," I replied. I continued to lean over my paper, straight-edge in hand. I completed the line and inched back to study my rendering. Sure, I could do most of this on the computer, and I would need to get the details into the appropriate CAD software in order to show the client, but I preferred the pencil-and-paper method my dad used to use. Like my love of interior that I'd inherited from my mom, my old-school methods made me feel closer to my dad.
"I don't want you to tire yourself out," Nico said.
I turned to face him.
"I thought it was best that I was here—you know, staying out of trouble."
His lips flattened. "I'm sorry, Aidy. I don't really think you're trouble. Or in trouble."
I tilted my head. "I think you do," I said, slowly. "And I was a huge pain in high school, I know that, but I'm an adult, Nico. I've made choices I know you don't agree with or approve of—"
"I don't approve; you're right. And I don't think work is the appropriate place to discuss family issues."
I gritted my teeth. My brother was such an uptight man. I let my pencil slide to the tray at the bottom.
"You're right. I just want you to know that trusting Jeff was a mistake. Running away from the issues I didn't want to face prior to college was, too. I'm trying to rectify what I can."
He tapped the door, shifting his feet. "Could you get me those plans by noon?"
I sighed. Getting through to him was harder than I expected. "Sure."
Now that I had years between me and my angry, heartbroken responses to our parents' deaths, I could admit my reckless partying and clandestine sexual encounters were irresponsible. Worse, those decisions nearly cost me my future.
Nico had tried to rein me in, but I'd refused to take him seriously—until the day he dragged me from a party, kicking and screaming. It was still one of the most humiliating moments of my life. And it probably saved it as well. Or at least my opportunity to attend college and make something of myself. The girl my date went home with ended up pregnant and dropped out of school.
I shuddered to realize how close I'd come to that fate.
I frowned as I considered the problem from his viewpoint.
Nico and I had years of anger, hurt, and animosity to work through.
Part of that came to a head later that afternoon.
"You can't send Chloe those," I implored. "That's not the direction she wants to take."
"These are solid designs," he said, gesturing to the layouts on his computer screen.
"But it's not right for their target—"
"So what do you propose, Aidalynn? This hotel is a big deal for our firm, and we have to give them our best work."
"I agree. That's why I think you should consider—"
"You know what? I'll handle it. Clearly, you're not ready for this."
Not only did Nico use my full name—the one he knew I detested, no doubt in an effort to get me as ticked off as he was—he never even let me speak. At Nico's request the week before, I'd been the one to field calls from Chloe, the project lead for the Macintosh Hotels, and she and I had really clicked.
Between two working lunches and multiple phone calls, I now had a thick folder of The Mac's current and future business plans. Corporate's decision to go after the wealthy millennial market seemed rock solid and well thought out, which was why we'd talked at length about what, exactly, Millennial meant to Chloe and to The Mac.
Nico wanted to send some staid, lame-ass interiors to Chloe.
I slapped the renderings I'd done onto his desk. "You want to remove me from the meeting?" I gritted out. "What if I'm right? You could lose—"
"Go home, Aidy," Nico said, his voice cold. "I don't want you at this meeting."
I drew myself up. "Fine. But be sure to show her my not-ready drawings because those are exactly what she asked for."
I turned on my heel and walked out of the room. I made it back to my office, blinking back the tears I wouldn't let fall. I heard Chloe arrive but continued to pack up my bag. A few minutes later, Chloe waltzed into my office, a sheaf of papers in hand, Nico trailing behind her.
"I'm sorry you were called out and missed the beginning of our meeting, but I just had to tell you myself. These renderings of yours are splendid. Exactly the vibe we hoped for."
Chloe's British accent caused me to smile, and I refused to look at Nico as I answered. "I'm so glad you like them. Nico will be sure to incorporate any changes you need. Now, if you'll excuse me, I must be goi—"
"But I want to work with you," Chloe said, sinking into the chair in front of my desk.
I raised my gaze to Nico's, unsure how to handle this complication. His jaw ticked, annoyance spread across his features.
"I'm sure we can rearrange Aidy's schedule and make that happen," Nico said.
"Great. Because I wasn't asking." Chloe's tone remained polite, but steel entered her words. The implication was clear: either she got her way, or she walked.
Nico pressed his fingertips to the edge of my desk. "Thanks for taking this on," he said.
A spark of warmth that Chloe felt strongly enough about my work to insist I deal with her directly built in my chest even as I hoped I wasn't in over my head with this project.
Nico expected me to fail—that's why he'd pulled me from the meeting.
I straightened my spine as I settled back in my chair, pulling a pad and pen closer to take notes. I refused to consider the possibility of failure. New Aidy was in charge, and she would not let her brothers—or herself—down.