Hot off the presses! Literally! It just went LIVE. Whoo-boy! This is going to be a good one.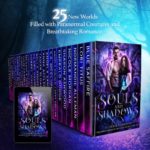 Apple: https://apple.co/2MiIRzb
Nook: https://bit.ly/2FEfgiA
Face haunting new worlds filled with paranormal creatures and breathtaking romance. Journey with beautiful beasts, sexy-as-sin vampires, soul-searing demigods, shadowy necromancers, and unlikely heroes as they fall in love and battle for good in this collection of fantasy adventures.
Will they survive the shadow's call?