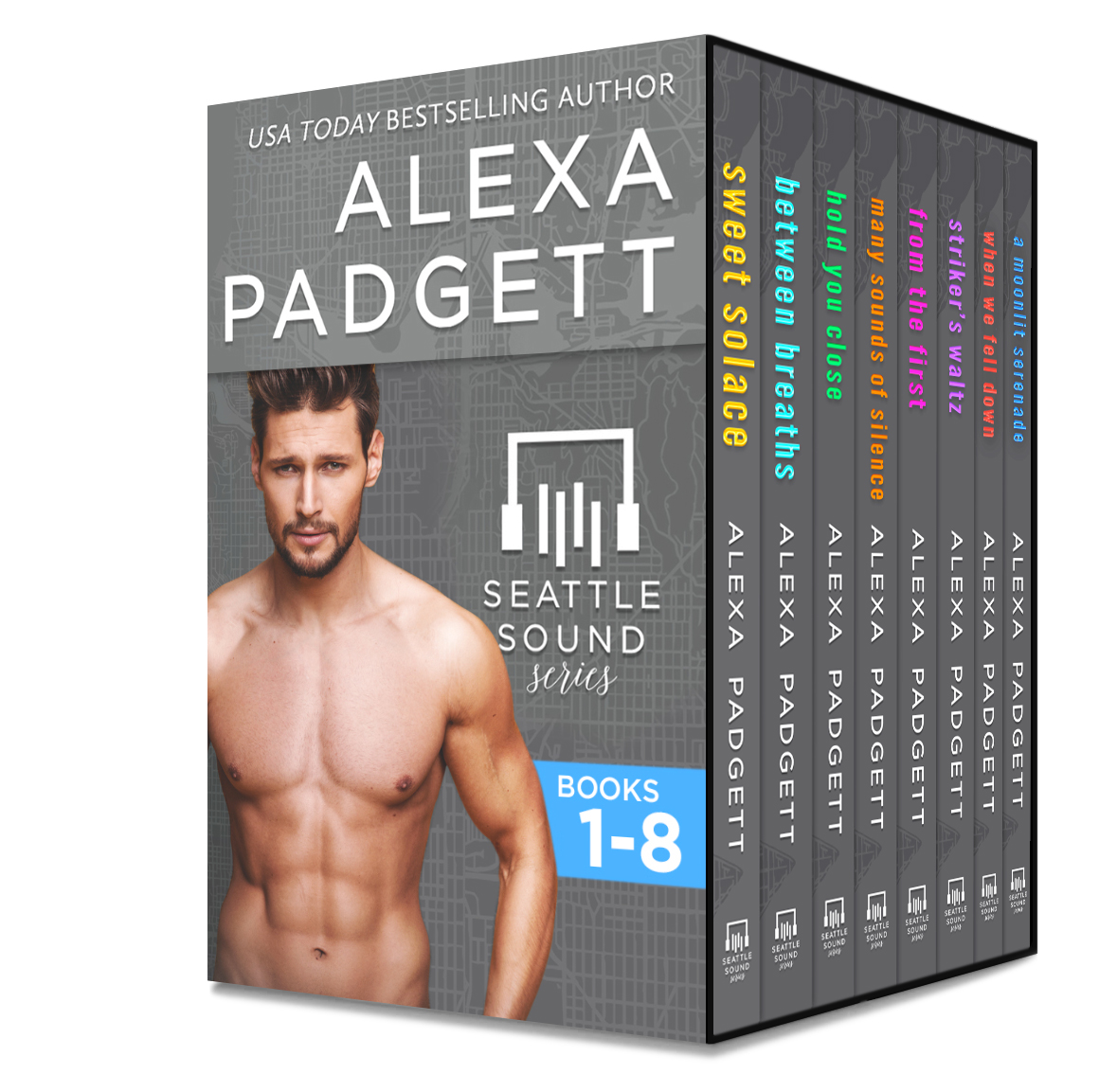 Seattle Sound Series, The Collection: Books 1-8
Books 1-8 of the Seattle Sound Series

Eight novels of magnetic, bad-boy rockers who rule the Pacific Northwest's indie music scene–and the fierce loves that soothe their hurts…
In SWEET SOLACE, Asher Smith has never forgotten the woman who inspired his first hit song. But widowed writer Dahlia Dorsey has given up on happy endings. Until a moonlit beach and the touch of an old friend awakens her to pain and desire, whether she's ready or not.
In BETWEEN BREATHS, Australia's hottest musical innovator, Hayden Crewe, can't go anywhere without attracting a mob. But watching his estranged mother die in a Seattle hospice center, he's never felt more alone. Until he meets long-legged, clear-minded Briar Moore, and suddenly knows exactly what will fill the hole inside.
In HOLD YOU CLOSE, Murphy Etsam's rise to stardom has come on the back of a breakup song composed of pure fury. But one glimpse of lovely, maddening Mila Trask in the crowd and Murphy knows a year of drowning his sorrows hasn't washed away a molecule of passion. Too bad Mila's stalker picks that moment to attack.
In THE MANY SOUNDS OF SILENCE, college sophomore Abbi Dorsey has plenty going for her even before acquiring a rock star stepdad. But one night she can't remember has produced a set of photos the media won't let her forget. Green-eyed guitarist Clay Rippey is happy to play Abbi's boyfriend for the press—until their attraction becomes all too real.
In FROM THE FIRST, singer Kai Luchia knows he's the classic frontman: charismatic, talented, and full of commitment issues. Shy, sultry Ph.D. student Evie Mercer might be his dream girl, but that only makes her more dangerous. Until the little girl they both love inspires a reckless plan: to keep her out of the foster system, Kai and Evie have to get married. And hope their tantalizingly messy feelings don't ruin it all…
In STRIKER'S WALTZ, singer Preslee Jennings hasn't felt safe six years. When she volunteers at a soccer camp with Matteo Cruz, star and international sex symbol, she can't deny my attraction. Teo is driven, patient, kind—and his butt is on seventy-foot billboards. Maybe I can risk trusting again, if only for one night. Their growing need can't be ignored, but as their relationship goes public, her ex storms back into her life and, now, the backlash could cost Teo more than just his career…
In WHEN WE FELL DOWN, performer Simon Dorsey's music career finally commands the admiration and cash he's craved. But his son believes the rumors circulating about Simon's affair, and his wife, Ella, refuses to even see him, thanks to those divorce papers I never intended to send. Simon has until Christmas to discover the truth about who wants to end his marriage and win his wife back. But there's more to Ella's life than me. For their love to last, he'll have to learn her heart all over again.
And in A MOONLIT SERENADE, world-famous rockstar Jake Etsam fell in love with Ryn Hudson's voice before he ever met her. Trying to recruit the mysterious girl-next-door music teacher to work on his solo album proves harder than he expected. She's prickly, defensive, wounded, and stubborn. As the holiday season takes over chilly Seattle, Jake finds in serious danger of falling in love with the rest of Ryn, too…
"What a fantastic collection of books! I absolutely adored this series. Alexa Padgett knows how to write a book that will grab you and keep you captivated until the very end. This series is really well written. The characters are incredibly likable. Love, emotion, suspense, some steam…..this series has it all." – Ang (Amazon Review)
Magnetic Medic A Cocky Hero Club Novel Magnetic Medic is Book 1 in a series inspired by Vi Keeland and Penelope Ward's British Bedmate. It is published as part of the Cocky Hero Club world, a series of original works, written by various authors, and inspired...