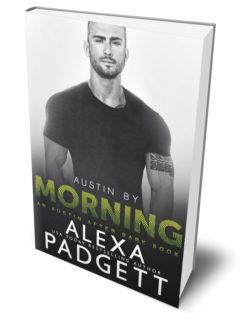 An Austin After Dark Book 3
Another sultry New Adult Romance from USA Today Bestseller Author Alexa Padgett.
From the moment I see Kate Grace, I can't wait to find out if what they say about redheads is true… Not only are her wild ringlets entrancing, she's sweet and sassy, with slower, sexier curves than a Texas back road.
Too bad she's also country music star Camden Grace's baby sister. Camden holds my chance at a comeback in his hands, and he doesn't want me–or my bad attitude–anywhere near Kate.
I don't have time for all these thoughts about Kate, anyway. I must focus on my son's future. I failed him once, but I'll do anything to prove how much I love him. Anything.
Even if that means giving up my dreams of a music career and another chance to kiss Kate's soft, luscious lips. Ike comes first. I promised, and my word is my vow. I'll never, ever break it.
Yes, even if I have to give up a chance to work with the biggest names in the music industry, and even if I have to walk away from the only woman I'll ever love….